Huawei Mate 8
At its CES 2016 press conference, Huawei went on to showcase three devices – a phone, a tablet, and a smartwatch. The Mate 8 phone sees its international launch, the Mediapad M2 10 is a new device entirely, while the Huawei Watch Elegant and Jewel are two new editions of the Huawei Watch this time with the ladies in mind specifically.
Huawei spoke at length how much its brand awareness has gone up around the world and that it has become the #3 smartphone maker worldwide. With ambitions to jump over Apple and take #2, of course. Flagships like the Huawei Mate 8 and the Nexus 6P will help raise awareness and push sales even further.
The Huawei Mate 8 was the first device that was shown off on stage. Not technically new, but we havent had a chance to handle it yet so check out the hands-on on the next page.
The Mate 8 features an all-metal body with razor-thin bezels around the large 6″ screen. Huawei compared its size to the 5.5″ iPhone 6s Plus. It also focused on the new Kirin 950 chipset the first with Cortex-A72 and Mali-T880, promising double the performance over the Kirin 925 in the Mate 7. Then there's the 16MP camera with f/2.0 aperture, OIS and phase detection just the right recipe for low-light shots.
The Huawei MediaPad M2 10.0 is a brand new product. A 10″ tablet with stylus support and strong focus on audio the partnership with Harman/Kardon brought a 4-speaker, 4-watt setup promises sound like you've never heard before from a tablet.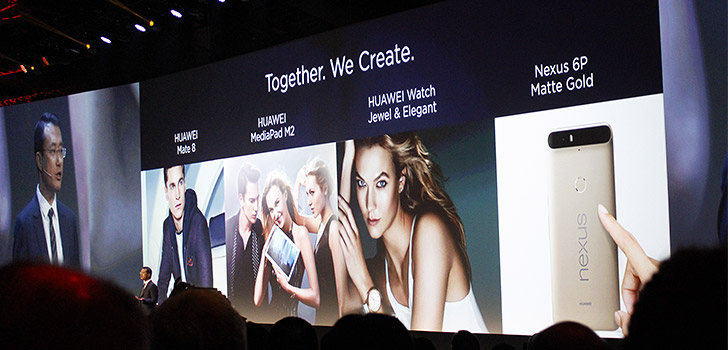 Then there's the Huawei Watch, one of the prettiest Android Wear devices is coming in two new designs aimed at the fairer sex. The Jewel and Elegant versions are adorned with Swarovski-made zirconia and feature a premium Rose Gold case.
Oh, and there's a new color version of the Huawei Nexus 6P, the Matte Gold. But we start with the Mate 8, which has a unique color too Mocha Brown.